Kürschner Carbon Set/Medium Treble/Light Bass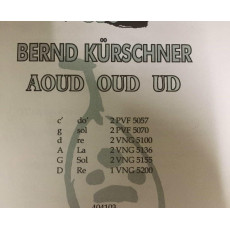 These carbon strings have proven to be best carbon strings on Oud, as the carbon strings put much more pressure on the top. But these are the low tension Carbon strings which are thin and react unbelievably fast to any smooth touch of the string.
Try them and you'll be surprised by the quality of these sets.
These sets are the German made Kürschner en NOT the turkish ones!!
Please pay attention to the table below, as there are slightly different thicknesses in the strings so that you will order the right ones!
c':2PVF 0.57mm
g :2PVF 0.70mm
d :2VNG 5100
A :2VNG 5136
G :2VNG 5155
C:1VNG 5200